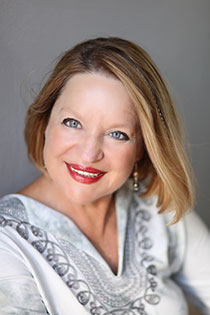 Rev. Uki MacIsaac, MA, is an internationally acclaimed speaker, intuitive counselor and ordained minister. Through her unique gift of clairvoyance, she empowers her clients to integrate their spiritual purpose and live a fuller, more meaningful life. Having overcome life-threatening illness more than once, her mission is to teach, heal and inspire others to heal themselves by connecting to the power of Spirit within.
In Uki's own words: "I was born and raised in Stuttgart, Germany. As a child and young adult, I had many out-of-body experiences and regular incidents of lucid dreaming. While I had at that time no frame of reference for understanding or interpreting these journeys, I embraced them as a way of receiving guidance from God; thus I was set on the path of spiritual exploration early on.
During my school and university years, I traveled Europe extensively, often backpacking the Mediterranean countries. My love for the French language inspired me to live for a year in Lyon, France, where I enjoyed the rich variety of regional culture and culinary delights.
I obtained two Masters degrees in German and French literature and linguistics at the University of Tübingen, and taught High School and Junior College near Stuttgart.
A life-threatening illness at age 30 launched me into an accelerated spiritual quest; I questioned the values and life style that had somehow contributed to this crisis. Spiritual guidance, soul resonance and the call of love brought me to San Diego, California, where I have lived now for over 20 years.
I had already been a devoted student of metaphysics, when a near-death coma experience in 1993 changed my life profoundly. I compare my time in the coma to a shaman's journey into different dimensional realities and realms of existence. I am blessed to remember the amazing experiences during this time with great clarity; a book detailing my multidimensional journey is in the works.
With the aid and support of Spirit, I healed myself once more from severe illness. I embarked on many years of study with different spiritual teachers that resulted in my ordination as a minister. I recommitted myself to service and launched fully into my life's work as an intuitive, spiritual teacher and |healer.
I have served the spiritual community for over 15 years with personal readings, energy work, past life regressions, soul retrievals, and classes in spiritual development. Officiating at weddings is my passion! An accomplished public speaker since 1989, I also offer motivational and inspirational presentations on a wide variety of topics, from aromatherapy to psychic development.
With my husband Gary, I currently reside in San Diego's North County. Together, we offer popular monthly spiritual concert and meditation events, Master Mind groups and weekend seminars. At times we also host a variety of well-known seminar presenters and guest speakers. Sign up for the Calendar of Events to learn more about current local events!
My life is my ministry, and nothing that ever happened to me was by mistake. I can see the hand of God in the many twists and turns that my life has taken, and I am so blessed to walk the path of service and passion as I do the work I love!"