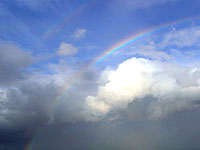 In this free meditation, heavenly clouds transport you to a lush tropical island where you find yourself at the foot of a magical rainbow.
As you travel upwards in the luminous arch, your chakras are re-aligned with divine harmony. You release past experiences and memories, offering with ease any dense energies back to Mother Earth and the infinite ocean.
Finally, it is time to take the rainbow slide! The child within rejoices with this journey into a bright new future.